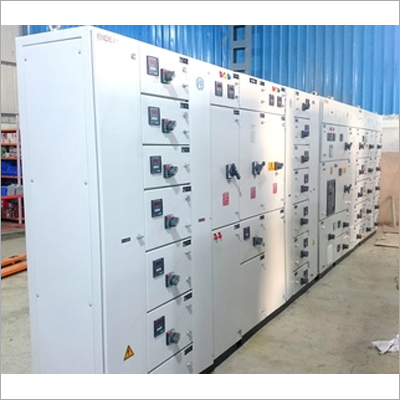 Industrial PCC Panels
Product Description
Power Control Centers Panels Up to 6300A
Power Control Centers Panel or PCC Panel is specially designed for checking the flow of electricity. These are used in both residential as well as commercial properties. These panels are used for three important factors. These are used for ensuring safety from any kind of dangerous damage caused by abrupt powers surges which can even blow up the entire system and that can possibly result fire accidents in building structures.

In addition to this, these function also helps in checking the power surge which provides complete protection to electrical equipment. In the process of power variations, the gadgets are remain unscathed because changes caused from these changes gets connected to the panels rightly. Furthermore, panels are well equipped with highly efficient circuit breakers which ensure uniform flow of electricity to the building from centers.

In addition to this, Power Control Centers Panels can be also used as an effective tool to measure power consumption in an building by owners and users. Basically, these are fixed with an meter which can be fixed in different units of a building using which one can easily track the exact amount of electricity consumed.

Mainly in corporate and commercial establishments such as stores, shopping malls, pharmacy, treatment plants, offices and various other these panels are widely used.
Features of PCC Panels :
Perfectly designed and made so that the partition sheet remain connected with the extreme end of rear panels.
For ensuring proper cable termination spacious arrangements are done which also ensures comfortable operation, usage & easy to maintain
In addition to this metallic barriers are provided around the cubicle for avoiding human contract with any of the parts which may result severe accidental incidents.
At rear panel option of double door is available.
These panels are very polished and fine finish.
Each and every panel has plastic drawing pockets which are used for house relevant drawings.
Customization services for retrofitting is provided which is done within minimum possible time.
Additional door flap over a lock made of steel which acts as barrier for unauthorized operation is also provided.
Concealed profile made of neoprene is specifically used for gasketing for ensuring protection against dust.
Flush type steel made door locks are used for convenient operation.
Highly tensile washers and bolts are used.
Sample diagram is made available for clients.
Tool box and Phase sequence meter are also available.
Main horizontal busbar chamber is made of Perforated sheet shroud
For ensuring excellent anti corrosion facility space heater, thermostat and high quality backup protection is provided.
Cubicles which also have controls are fitted along with sockets and lamps.
In order to prevent wire tapping incidents power socket which include MCB/fuses are provided
Extensible door is provided.
Benefits of PCC Panels :
Robust and compact construction
Ensured safety
Reliable and hassle free performance
Quality certified
For cables and bus bars high quality connections provided
For safety separate compartments are design which consists of switching device, auxiliary equipment and a cable
Easy to operate
Unlimited options are provided for choosing supply direction to customize technical specifications.
High and reliable short-time current bearing capacity supports time-graded short-circuit protection and to avoid short-circuit quality switchboard are used.
Applications of PCC Panels :
Construction Field
Chemical Industries
Oil Industries
Power Transmission & Distribution
Cable Industries, Plastic Industries
Packaging Industries
Texturizing Industries
Pharmaceuticals Industries
Paint Industries
Metal Industries
Cement Industries
Terms of Payment: 40% advance along with P.O. and balance against proforma invoice
Delivery Time: within 3-4 weeks
Product details
| | |
| --- | --- |
| Phase | 3 - Phase |
| Voltage | 380-415 V |
| Power | 500 KW |
| Frequency | 50-60 Hz |
| Material | Mild Steel |
| IP Rating | IP54 |
| Sheet Thickness | 5 to 15 mm |
Contact Us
Damanganga Industrial Park, Gate No. 2, Survey No. 397/1/P1, Plot No. 29, Dungri Falia, Vapi, Dist. Valsad Vapi INA Gujarat India +918037302121
Phone :+918037302121